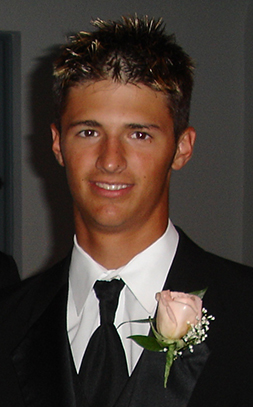 Colton McBride Memorial was established in 2008 to honor the life of a young man whose life was cut short.
Colton loved animals, children, sports, and life itself. Colton McBride Memorial Golf Tournament will benefit the Suicide Awareness Coalition of Tarrant County, an initiative of Mental Health America of Greater Tarrant County.
12/19/1989 – 3/9/2008
SAVE THE DATE!
The Colton McBride Sunday Funday Memorial Jam
February 12, 2017
Longhorn Saloon
121 W. Exchange Avenue, Fort Worth, TX 76164
View the event poster
About the 2017 Tournament
Colton McBride Memorial, Inc. is hosting their 9th Annual Golf Tournament in 2017 (TBD) at The Golf Club at the  Resort, 5700 Resort Blvd, Fort Worth, Texas 76179. Your support benefits the Mental Health America's LOSS Team (Local Outreach to Survivors of Suicide) in Tarrant County. The LOSS Team provides support and resources to those who have lost someone to suicide.